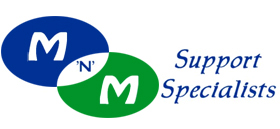 "Let Us Take The Burden Off You!!"
Are You A Small Business Owner Who Finds Yourself....
With a business running you instead of you running your business?
Needing someone to help for about 10 hours per week but can't find anyone to step up to the plate?
Spending thousands of dollars on temporary services to have them send you someone who can't get the job that you want done?
Needing help but can't afford the space and equipment to have someone work in your small office?
If you answered YES to any of these questions then
maybe it is time to consider M'n'M Support Specialists!
M'n'M Support Specialists is a Bookkeeping and Administrative Services Company that brings the following knowledge to any company that partners with us.
Over 15 years in the administrative field and 10 years bookkeeping support to

National and International Business
Government Contracts
Construction
Architechtural/Engineering firms
Local Government
Start-up Businesses
Small Businesses
Contract Security Services
Clinical Research