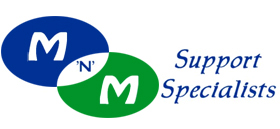 "Let Us Take The Burden Off You!!"
Our Pledge to You
The Mission of M'n'M Support Specialists is to provide you with quality work in an expedient manner while maintaining the adaptability to meet all of your needs. We allow you to overcome both short-term and long-term administrative bureaucracies. We are able to provide you with advice regardless of your company size.
Ethical Standards Practiced By
M'n'M Support Specialists
Information received will be used to provide professional service to our clients or as required by law.
Conflicts of interest will be avoided to the best of our abilities.
If we are unable to provide a service we would be glad to give you recommendations of vendors we have personally dealt with.
Only pay for time and materials that are spent on your account to complete the project.
About Michelle & Mike
Michelle is the President of M'n'M Support Specialists since September 2004 which specializes in bookkeeping and administrative support for construction companies. Michelle has over five years of experience within this industry and over 10 years as a bookkeeper from Small Businesses to International Real Estate Investors. She is capable of managing all construction paperwork from preparing a bid to preparing release of liens. Her knowledge in MS Project and Quickbooks is an asset to any small contracting business.
Mike is the Vice President of Marketing and Sales for M'n'M Support Specialists. Mike served in the U.S. Navy for 12 years before starting his career in sales and marketing. He brings with him over 5 years experience in sales from retail management sales to automotive sales. Mike knows that the best way to grow a business is through word of mouth networking and constant client contact management.