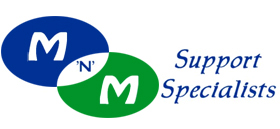 "Let Us Take The Burden Off You!!"
Why Hire M'n'M
Support Specialists
BENEFITS TO HIRING US:
Save money by not supplying office space or equipment. M'n'M Support Specialists staff supports you from our home office using our own maintained equipment.
There is no extra cost for training on new programs. M'n'M Support Specialists keeps up to date on the most recent applications out there.
Eliminate payroll taxes, workers compensation, federal and state unemployment taxes, employee benefits including paid vacations and holidays, along with the bookkeeper to take care of all that information for you. Click here to see how
You don't need to worry about state employment laws.
You are billed on a time and materials basis and eliminate time when full-time employees are unproductive. M'n'M Support Specialists will only bill you for actual time spent on your project.
Use M'n'M Support Specialists when your support staff gets overloaded or is on vacation. We can easily step in and assist with no down time to learn about your and your company, we already know how you work.
M'n'M Support Specialists staff is available part-time, full-time, casual or permanent. We are available when you need the assistance.
M'n'M Support Specialists is your "partner" helping your business succeed!
DO I NEED M'n'M Support Specialists?
The following are some signs to help you identify whether you need M'n'M Support Specialists to assist you in managing and growing your business.
Time Flies and Sometimes You Miss It
Are your projects stalled because you failed to order those materials in time? Are you missing appointments or delaying returning calls to those potential clients?
To-Do Lists
Are your to-do lists too long that you don't think you will ever complete them? Do you have the same item on your to-do list today that you had two weeks ago?
Document Distress
Are your documents stained with coffee? Do they look like they have been through the rain and then dried in the drier?
Chaos
Are you spending hours looking for that important change in the scope of the contract? Can't find that contract? Are you spending more than 10 hours a day at the office?
Clients
Are your clients confident in your ability to handle their projects? Are you returning their calls within 24 hours?
Booming Business
Is your business all of a sudden growing and you can't keep up with the demands of it? Is your business growing with the market and economy? Are you competitive?
Life
When was the last time you spent time with your family? Are you able to take a vacation and feel confident that your business is in capable hands.