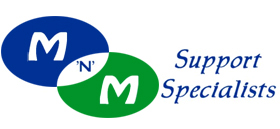 "Let Us Take The Burden Off You!!"
What our Partners are Saying About Us...
Dynamite! That is how I would describe Michelle of M'n'M Support Specialists. She came to my physical office for 4 months and in that time she completed a year's worth of filing, reorganized the files to expedite the location of documents. At the same time she brought two databases out of DOS and in to MS Access. Her accounting skills were top notch and she closed out my 2004 books while learning my intricate invoicing system in less then two hours. M'n'M Support Specialists would be a great asset to any company.
Gerry Hillier
HCM Plus
Riverside, CA
---
When Michelle came on board I didn't know what I was doing and that I was breaking employment laws. She set me straight and got me on the legal side of employee relations. Bringing our accounting files up to date for the entire year was no easy task but she did it and managed to reorganize my business to run smoothly. All of this and she managed to save my company over $3,000 in payment to our tax attorney. She trained my wife in the use of Quickbooks and Excel and made us self sufficient. All the time she served whole heartedly and with dignity even though she knew we would one day be able to proceed on our own with out her services. We look forward to the day we can bring her back on board.
Paul Reed
Snowy River Pools & Landscape
Murrieta, CA
---
I recently had the pleasure to attend one of Michelle's in person MS Word Training sessions. The course was very detailed and I gained a lot of knowledge that will be useful to me in my new career. I believed that the information was thoroughly covered. The course material was easy to follow and the hands on personal attention helped that process. I would recommend anyone that wants to learn more about word to contact Michelle.
Pauline
Experience Unlimited
Corona, CA
---
Michelle in a word is spectacular. She has undertaken many projects for me and most recently handled a huge research project that totally knocked my socks off. Michelle goes above and beyond to ensure satisfaction with each and every project. She helps to make our business look good and that is an invaluable commodity. If you are thinking about using M'n'M Support Specialists, I know that you won't be disappointed with any aspect of their services.
Dale Noles
The Selon Group
Spartenberg, SC
---
In preparing for the administrative exams for the temporary agencies I took Michelle's MS Word and MS Excel course to further my knowledge. Her knowledge in the questions on the exams really helped me in my preparations even further. She showed me how to do things that I didn't even know existed. She showed me different ways to answer questions and the preferred ways by the standard exams to increase my score. After taking these courses my scores went from Beginner/Intermediate user to a strong Intermediate user and some advance skills. I am now on my way to a well paying position. Thank you Michelle for your time and patience, I look forward to my next project.
Shirley Adsit
Experience Unlimited
Corona, CA
---
Michelle Zambos-Duerksen is a fantastic Microsoft Office trainer. Her patience and ability to break things down step-by-step made learning difficult material so much easier. Her strong knowledge of MS Office is evident in everything she does and comes across in her professional work. I would highly recommend Michelle to anyone who is looking for someone with strong MS Office skills and the ability to work with learners at all levels
Leigh Zaykoski
---
Michelle was able to take complex information and break it down to simple, user friendly and basic information. The courses are done in a hands on environment where she is able to watch and guide you through the steps. Her patience shows as she really works with her participants to ensure they understand the material. If you are in a group course she is able to help you out while still moving the class forward. I would highly recommend anyone interested in learning an applications to M'n'M Support Specialists
Linda Larsen
Former Marketing Director for Carl's Jr.
Experience Unlimited
Corona, CA
---